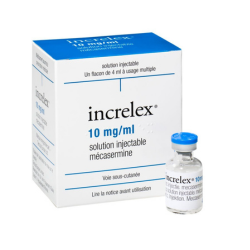 Drug Name: Increlex 
Generic Name: Mecasermin
Dosage Forms and Strengths: 10 mg per mL (40 mg per vial) multiple-dose
Manufactured by: Ipsen Biopharmaceuticals, Inc
Medical uses
Warning & Precautions
Documentation & Availability
Sourcing & Delivery
FAQ
Medical uses
If you are considering the import of Increlex (Mecasermin) to India, please be aware that Increlex can be imported on the name of patients or government hospitals solely in the name of the patients. The following documentation is essential for the successful import of this medication:
Required Documentation for Import:
A valid prescription from a qualified healthcare professional.

Diagnostic reports of the patient.

Government-issued identification proof for the patient, as recognized by the Government of India.
Order Confirmation Process:
The order for Increlex will be confirmed upon the receipt of the following documents:
A valid prescription from a qualified doctor.

An import permit, if applicable.
Availability of Increlex in India:
Increlex (Mecasermin) is classified as a prescription pharmaceutical drug. Consequently, it legally requires a medical prescription to be dispensed. Indian Pharma Network (IPN) specializes in facilitating the import of cancer medicines through named patient supply (NPS), ensuring transparency and authenticity by sourcing from reputable suppliers in the USA, Canada, Europe, and Australia.
Increlex can be made accessible to patients, doctors, and hospitals in various cities across India, including but not limited to Srinagar, Jammu, Mumbai, Kolkata, Hyderabad, Chennai, Ahmedabad, Delhi, Bangalore, Jaipur, Chandigarh, Ludhiana, Noida, Gurgaon, Lucknow, and Pune. A valid prescription from a doctor and an import permit will be required to confirm an order.
IPN (Indian Pharma Network) is dedicated to facilitating the supply of Elahere (prescription medicines) to locations within India and worldwide while adhering to relevant legal requirements.
Our commitment lies in assuring quality and timely delivery to meet the healthcare needs of patients and medical professionals across the globe.
Warning & Precautions
Documentation & Availability
Sourcing & Delivery
FAQ
If you have any questions or need any help, contact our Patient Support Team. We will get in touch with you within 24 hours from Monday to Friday between 9:00 and 10:00 CET.
All Trademarks and Brands that appear on the website belong to their respective owners and indianpharmanetwork does not lay any claim on them we only provide Information.