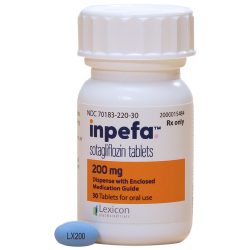 Medicine Name: Inpefa
Generic Name: Sotagliflozin
Dosage Form & Strength: Tablets: 200 mg and 400 mg
Manufactured By: Lexicon Pharmaceuticals, Inc.
Medical uses
Warning & Precautions
Documentation & Availability
Sourcing & Delivery
FAQ
Medical uses
Inpefa (sotagliflozin) is an oral inhibitor of SGLT2 and SGLT1 used to scale down the risk of cardiovascular (CV) death, hospitalization for heart failure, and urgent heart failure (HF) visits in adults with heart failure or type 2 diabetes mellitus, chronic kidney disease, and other cardiovascular (CV) risk factors.
Recommended Dosage: The recommended starting dose of Inpefa tablet is 200 mg orally once daily not more than 60 minutes before the first meal of the day. Up-titrate dosage after at least 2 weeks to 400 mg orally once daily as tolerated. Down-titrate dosage to 200 mg as required. Swallow tablets whole. Avoid chewing, cutting, or crushing tablets.
For those with decompensated heart failure, dosing with Inpefa may begin as promptly as the patient is hemodynamically stable, including during urgent outpatient treatment or hospital stay or immediately upon discharge.
In case a dose is missed beyond six hours, take the very next scheduled dose as prescribed the next day.
Warning & Precautions
Documentation & Availability
Sourcing & Delivery
FAQ
If you have any questions or need any help, contact our Patient Support Team. We will get in touch with you within 24 hours from Monday to Friday between 9:00 and 10:00 CET.
All Trademarks and Brands that appear on the website belong to their respective owners and indianpharmanetwork does not lay any claim on them we only provide Information.