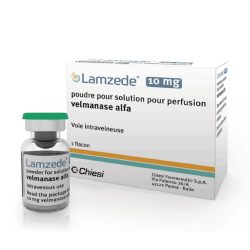 Lamzede (Velmanase alfa-tycv)
Medicine Name: Lamzede
API: Velmanase alfa-tycv
Dosage Form & Strength: Injection: 10 mg as a lyophilized powder in a single-dose vial for reconstitution
Manufactured By: Chiesi Global Rare Diseases
Medical uses
Warning & Precautions
Documentation & Availability
Sourcing & Delivery
FAQ
Medical uses
Lamzede (velmanase alfa-tycv) is the first and only enzyme replacement therapy (ERT) used for the treatment of non-central nervous system manifestations of alpha-mannosidosis in adult and pediatric patients.
Recommended Dosage: The recommended dosage is 1 mg/kg (actual body weight) given once weekly as an intravenous (IV) infusion. The total volume of infusion is specified by the patient's actual body weight and needs to be given over at least 60 minutes for those weighing up to 49 kg. Those weighing 50 kg and beyond need to be infused at the highest infusion rate of 25 mL/hour to manage the protein load.
In case single or multiple doses are missed, reinitiate the therapy as quickly as possible, as long as it is at least three days from the very next scheduled dose. In case it is within 3 days from the next scheduled dose, give only the next dose per schedule.
Warning & Precautions
Documentation & Availability
Sourcing & Delivery
FAQ
If you have any questions or need any help, contact our Patient Support Team. We will get in touch with you within 24 hours from Monday to Friday between 9:00 and 10:00 CET.
All Trademarks and Brands that appear on the website belong to their respective owners and indianpharmanetwork does not lay any claim on them we only provide Information.