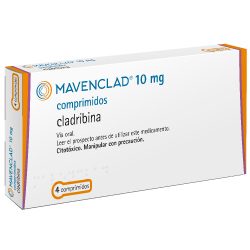 Medicine Name: Mavenclad
Generic Name: Cladribine
Dosage Form & Strength: Tablets: 10 mg
Manufactured By: EMD Serono, Inc.
Medical uses
Warning & Precautions
Documentation & Availability
Sourcing & Delivery
FAQ
Medical uses
Mavenclad is a purine antimetabolite widely used to treat relapsing forms of MS (multiple sclerosis), including active secondary progressive disease and relapsing-remitting disease, in adults. Due to its safety point of view, Mavenclad (Cladribine) is generally used in individuals who have used another multiple sclerosis medicine that they could not tolerate or that has not worked effectively.
Limitations of Use: Do not use Mavenclad 10 mg tablets in patients with clinically isolated syndrome (CIS).
Recommended Dosage: The recommended cumulative Mavenclad dosage is 3.5mg per kg body weight over two years, given as 1 therapy course of 1.75mg per kg yearly. Each therapy course typically consists of two therapy weeks, 1 at the start of the first month and 1 at the start of the second month of the respective therapy year. In case medically required (e.g. for recovery of lymphocytes), the therapy course in year 2 can be delayed for up to 6 months. Each therapy week consists of 4 or 5 days on which a patient receives 10 mg or 20 mg (one or two tablets) as a single daily dose, depending on body weight.
After the 2 therapy courses, no further cladribine 10 mg therapy is needed in 3 and 4 years. Restart of therapy with cladribine tablets after year 4 has not been evaluated. Tablets of Mavenclad are taken orally, with the help of water, and gulped whole without chewing. Tablets may be administered either with or without a meal. Separate use of this medication and any other oral medicine by a minimum of 3 hours during the 4-5 days of treatment cycles. In case a dose of Mavenclad 10 mg tablet is skipped or missed, patients should not take any additional or double doses.
Warning & Precautions
Documentation & Availability
Sourcing & Delivery
FAQ
If you have any questions or need any help, contact our Patient Support Team. We will get in touch with you within 24 hours from Monday to Friday between 9:00 and 10:00 CET.
All Trademarks and Brands that appear on the website belong to their respective owners and indianpharmanetwork does not lay any claim on them we only provide Information.