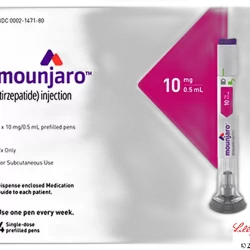 Drug Name: Mounjaro 
Generic Name: Tirzepatide
Dosage Forms and Strengths:Injection: 2.5 mg, 5 mg, 7.5 mg, 10 mg, 12.5 mg
Manufactured by: Eli Lilly and Company 
Medical uses
Warning & Precautions
Documentation & Availability
Sourcing & Delivery
FAQ
Medical uses
MOUNJARO is a glucose-dependent insulinotropic polypeptide (GIP) receptor and glucagon-like peptide-1 (GLP-1) receptor agonist indicated as an adjunct to diet and exercise to improve glycemic control in adults with type 2 diabetes mellitus.
Limitations of Use:
Has not been studied in patients with a history of pancreatitis.
It is not indicated for use in patients with type 1 diabetes mellitus.
 Recommended Dosage:
The recommended starting dosage is 2.5 mg, injected subcutaneously once weekly.
After 4 weeks, increase to 5 mg injected subcutaneously once weekly.
If additional glycemic control is needed, increase the dosage in 2.5 mg increments after at least 4 weeks on the current dose.
The maximum dosage is 15 mg subcutaneously once weekly.
Administer once weekly at any time of day, with or without meals.
Inject subcutaneously in the abdomen, thigh, or upper arm.
Rotate injection sites with each dose.
Warning & Precautions
Documentation & Availability
Sourcing & Delivery
FAQ
If you have any questions or need any help, contact our Patient Support Team. We will get in touch with you within 24 hours from Monday to Friday between 9:00 and 10:00 CET.
All Trademarks and Brands that appear on the website belong to their respective owners and indianpharmanetwork does not lay any claim on them we only provide Information.