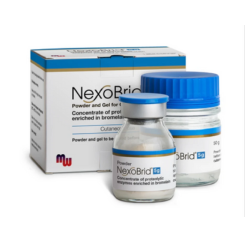 NexoBrid (Anacaulase-bcdb)
Drug Name: NexoBrid 
API: Anacaulase-bcdb
Dosage Forms and Strengths: NexoBrid, topical gel: 8.8%
Manufactured by: Vericel Corporation
Medical uses
Warning & Precautions
Documentation & Availability
Sourcing & Delivery
FAQ
Medical uses
NexoBrid contains proteolytic enzymes and is indicated for the removal of eschars in adults with deep partial thickness and/or full thickness thermal burns.
Limitations of Use
The safety and effectiveness of NexoBrid have not been established for the treatment of:

Chemical or electrical burns.

Burns on the face, perineum, or genitalia.

Burns on the feet of patients with diabetes mellitus or on the feet of patients with occlusive vascular disease.

Circumferential burns.

Burns in patients with significant cardiopulmonary disease, including inhalation injury.

NexoBrid is not recommended for wounds contaminated with radioactive and other hazardous substances to avoid unforeseeable reactions with the product and an increased risk of spreading the noxious substance.

Dosage and Administration
For topical use only.

NexoBrid may be applied in up to two applications of 4 hours each.

A first application may be applied to an area of up to 15% body surface area (BSA).

A second application may be applied 24 hours later. The total treated area for both applications must not exceed 20% BSA.

Prepare NexoBrid at the patient's bedside within 15 minutes of the intended application.

Apply NexoBrid to a clean, moist wound bed free of burned epidermis layer and blisters, and cover with an occlusive film dressing for 4 hours.

Warning & Precautions
Documentation & Availability
Sourcing & Delivery
FAQ
If you have any questions or need any help, contact our Patient Support Team. We will get in touch with you within 24 hours from Monday to Friday between 9:00 and 10:00 CET.
All Trademarks and Brands that appear on the website belong to their respective owners and indianpharmanetwork does not lay any claim on them we only provide Information.