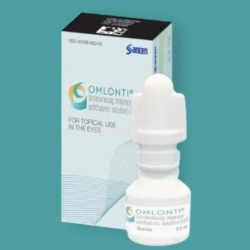 Omlonti (Omidenepag Isopropyl)
Drug Name: Omlonti 
API: Omidenepag Isopropyl
Dosage Forms and Strengths: Ophthalmic solution 0.002% of omidenepag isopropyl.
Manufactured by: Santen
Medical uses
Warning & Precautions
Documentation & Availability
Sourcing & Delivery
FAQ
Medical uses
Omlonti (Omidenepag Isopropyl Ophthalmic Solution) 0.002% is a relatively selective prostaglandin E2 (EP2) receptor agonist indicated for the reduction of elevated intraocular pressure (IOP) in patients with open-angle glaucoma or ocular hypertension.
Dosage And Administration
The recommended dosage is one drop in the affected eye(s) once daily in the evening.
Warning & Precautions
Documentation & Availability
Sourcing & Delivery
FAQ
If you have any questions or need any help, contact our Patient Support Team. We will get in touch with you within 24 hours from Monday to Friday between 9:00 and 10:00 CET.
All Trademarks and Brands that appear on the website belong to their respective owners and indianpharmanetwork does not lay any claim on them we only provide Information.