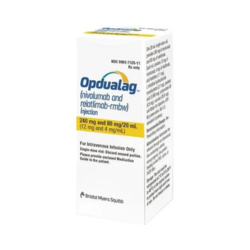 Opdualag (Nivolumab & Relatimab)
Drug Name: Opdualag 
Generic Name: Nivolumab & Relatimab
Dosage Forms and Strengths: Injection: 240 mg of nivolumab and 80 mg of relatlimab per 20 mL in a single-dose vial.
Manufactured by: Bristol-Myers Squibb
Medical uses
Warning & Precautions
Documentation & Availability
Sourcing & Delivery
FAQ
Medical uses
OPDUALAG is a groundbreaking blend of nivolumab, programmed death receptor-1 (PD-1) blocking antibody, and relatlimab, a lymphocyte activation gene-3 (LAG-3) blocking antibody. This innovative combination is specifically indicated for the treatment of adult and pediatric patients, 12 years of age or older, grappling with unresectable or metastatic melanoma.
Recommended Dosage:
For adult patients and pediatric patients weighing at least 40 kg:
Administer 480 mg of nivolumab and 160 mg of relatlimab intravenously every 4 weeks.
Opdualag 480 mg is to be administered as an intravenous infusion over a 30-minute period.
Warning & Precautions
Documentation & Availability
Sourcing & Delivery
FAQ
If you have any questions or need any help, contact our Patient Support Team. We will get in touch with you within 24 hours from Monday to Friday between 9:00 and 10:00 CET.
All Trademarks and Brands that appear on the website belong to their respective owners and indianpharmanetwork does not lay any claim on them we only provide Information.