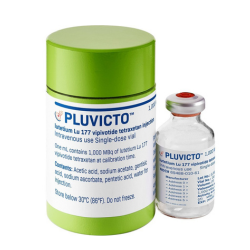 Medicine Name: Pluvicto
API: Lutetium Lu 177 Vipivotide Tetraxetan
Dosage Form & Strength: Injection: 1,000 MBq/mL (27 mCi/mL) in a single-dose vial
Manufactured By: Novartis
Medical uses
Warning & Precautions
Documentation & Availability
Sourcing & Delivery
FAQ
Medical uses
Pluvicto (lutetium Lu 177 vipivotide tetraxetan) is a radioligand therapeutic agent used for the treatment of adults with advanced cancer known as prostate-specific membrane antigen­–­positive metastatic castration-resistant prostate cancer (PSMA-positive mCRPC) who have received therapy with androgen receptor pathway inhibition and taxane-based chemotherapy.
Recommended Dosage: The recommended dosage is 7.4 GBq (200 mCi) administered intravenously (IV) every six weeks for up to six doses or until disease progression or unacceptable toxicity. Management of side effects may require temporary dose interruption (extending the dosing interval from every six weeks up to every ten weeks), dose reduction, or permanent discontinuation of therapy with Pluvicto injection. If a treatment delay because of a side effect persists for > 4 weeks, discontinue Pluvicto 1,000 MBq/mL treatment.
Warning & Precautions
Documentation & Availability
Sourcing & Delivery
FAQ
If you have any questions or need any help, contact our Patient Support Team. We will get in touch with you within 24 hours from Monday to Friday between 9:00 and 10:00 CET.
All Trademarks and Brands that appear on the website belong to their respective owners and indianpharmanetwork does not lay any claim on them we only provide Information.