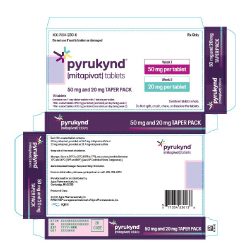 Medicine Name: Pyrukynd
Generic Name: Mitapivat
Dosage Form & Strength: Tablets: 5 mg, 20 mg, and 50 mg
Manufactured By: Agios Pharmaceuticals, Inc. 
Medical uses
Warning & Precautions
Documentation & Availability
Sourcing & Delivery
FAQ
Medical uses
Pyrukynd (mitapivat) is a pyruvate kinase activator used for the treatment of reduced red blood cell counts caused by the early breakdown of red blood cells (hemolytic anemia) in adult patients with PK (also called pyruvate kinase) deficiency.
Recommended Dosage: The starting recommended dosage for Pyrukynd tablet is 5 mg orally twice daily with or without food. Swallow tablets whole. Do not chew, crush, split, or dissolve. To gradually increase hemoglobin (Hb), titrate the dosage of Pyrukynd from 5 mg twice daily to 20 mg twice daily, and then to the maximum dose of 50 mg twice daily, with these dose increases occurring every four weeks. Evaluate Hb and transfusion need prior to increasing to the very next dose level, as certain individuals may reach and maintain normal Hb at 5 mg twice daily or 20 mg twice daily. Discontinue therapy in case no benefit has been noticed by 24 weeks, on behalf of hemoglobin and hemolysis laboratory results and transfusion needs.
If a dose is missed by 4 hours or less, administer the dose as quickly as possible. In case a dose is missed beyond four hours, avoid administering a replacement dose, and wait until the very next scheduled dose. Subsequently, back to the standard dosing schedule.
Warning & Precautions
Documentation & Availability
Sourcing & Delivery
FAQ
If you have any questions or need any help, contact our Patient Support Team. We will get in touch with you within 24 hours from Monday to Friday between 9:00 and 10:00 CET.
All Trademarks and Brands that appear on the website belong to their respective owners and indianpharmanetwork does not lay any claim on them we only provide Information.