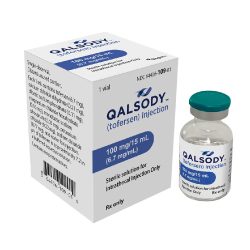 Drug Name: Qalsody
Active Pharmaceutical Ingredient: Tofersen
Dosage Forms and Strengths: Injection: 100 mg/15 mL (6.7 mg/mL) in a single-dose vial
Manufactured by: Biogen
Medical uses
Warning & Precautions
Documentation & Availability
Sourcing & Delivery
FAQ
Medical uses
QALSODY is an antisense oligonucleotide indicated for the treatment of amyotrophic lateral sclerosis (ALS) in adults who have a mutation in the superoxide dismutase 1 (SOD1) gene. This indication is approved under accelerated approval based on reduction in plasma neurofilament light chain observed in patients treated with QALSODY. Continued approval for this indication may be contingent upon verification of clinical benefit in confirmatory trial(s).
Dosage And Administration
QALSODY is administered intrathecally
Dosing Information
Recommended dose: 100 milligrams (15 mL) per administration
Initiate QALSODY treatment with 3 loading doses administered at 14-day intervals. A maintenance dose should be administered once every 28 days thereafter.
Preparation and Administration Instructions
Allow to warm to room temperature prior to administration
Administer within 4 hours of removal from vial
Prior to administration, remove approximately 10 mL of cerebrospinal fluid
Administer as an intrathecal bolus injection over 1 to 3 minutes
Warning & Precautions
Documentation & Availability
Sourcing & Delivery
FAQ
If you have any questions or need any help, contact our Patient Support Team. We will get in touch with you within 24 hours from Monday to Friday between 9:00 and 10:00 CET.
All Trademarks and Brands that appear on the website belong to their respective owners and indianpharmanetwork does not lay any claim on them we only provide Information.