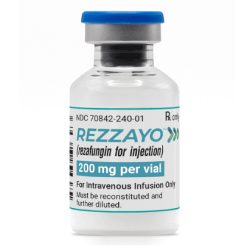 Drug Name: Rezzayo 
Active Pharmaceutical Ingredient: Rezafungin
Dosage Forms and Strengths:For injection: 200 mg as a solid (cake or powder) in a single-dose vial for reconstitution.
Manufactured by: Melinta Therapeutics
Medical uses
Warning & Precautions
Documentation & Availability
Sourcing & Delivery
FAQ
Medical uses
REZZAYO is an echinocandin antifungal indicated for patients 18 years of age or older who have limited or no alternative options for the treatment of candidemia and invasive candidiasis. Approval of this indication is based on limited clinical safety and efficacy data for REZZAYO.
Limitations of Use
REZZAYO has not been studied in patients with endocarditis, osteomyelitis, and meningitis due to Candida.
Dosage And Administration
Administer the recommended dosage of REZZAYO once weekly by intravenous (IV) infusion, with an initial 400 mg loading dose, followed by a 200 mg dose once weekly thereafter. The safety of REZZAYO has not been established beyond 4 weekly doses.
See full prescribing information for reconstitution, dilution, and administration instructions.
Warning & Precautions
Documentation & Availability
Sourcing & Delivery
FAQ
If you have any questions or need any help, contact our Patient Support Team. We will get in touch with you within 24 hours from Monday to Friday between 9:00 and 10:00 CET.
All Trademarks and Brands that appear on the website belong to their respective owners and indianpharmanetwork does not lay any claim on them we only provide Information.