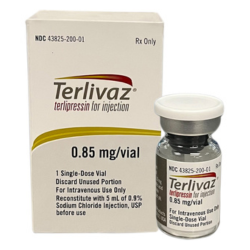 Drug Name: Terlivaz 
API: Terlipressin
Dosage Forms and Strengths:  0.85 mg single-dose vial
Manufactured by: Mallinckrod
Medical uses
Warning & Precautions
Documentation & Availability
Sourcing & Delivery
FAQ
Medical uses
TERLIVAZ is a vasopressin receptor agonist indicated to improve kidney function in adults with hepatorenal syndrome with rapid reduction in kidney function.
Dosage And Administration
Prior to initial dosing, assess patients for ACLF Grade 3 and obtain the patient's baseline oxygenation level. Monitor patient oxygen saturation with pulse oximetry.
Recommended Dosage Regimen:
Days 1 to 3: Administer Terlivaz 0.85 mg (1 vial) intravenously every 6 hours.
Day 4: Assess serum creatinine (SCr) versus baseline.
If SCr has decreased by at least 30% from baseline, continue TERLIVAZ 0.85 mg (1 vial) intravenously every 6 hours.
If SCr has decreased by less than 30% from baseline, the dose may be increased to TERLIVAZ 1.7 mg (2 vials) intravenously every 6 hours.
If SCr is at or above baseline value, discontinue TERLIVAZ.
Continue TERLIVAZ until 24 hours after two consecutive SCr ≤1.5 mg/dL values at least 2 hours apart or a maximum of 14 days.
Warning & Precautions
Documentation & Availability
Sourcing & Delivery
FAQ
If you have any questions or need any help, contact our Patient Support Team. We will get in touch with you within 24 hours from Monday to Friday between 9:00 and 10:00 CET.
All Trademarks and Brands that appear on the website belong to their respective owners and indianpharmanetwork does not lay any claim on them we only provide Information.