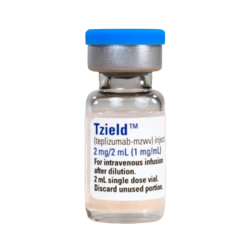 Drug Name: Tzield 
API: Teplizumab-mzwv
Dosage Forms and Strengths: 2 mg per 2 mL (1 mg/mL) single-dose vial 
Manufactured by: Provention Bio
Medical uses
Warning & Precautions
Documentation & Availability
Sourcing & Delivery
FAQ
Medical uses
TZIELD is a CD3-directed antibody indicated to delay the onset of Stage 3 type 1 diabetes (T1D) in adults and pediatric patients aged 8 years and older with Stage 2 T1D.
Dosage and Administration:
Confirm Stage 2 T1D by documenting at least two positive pancreatic islet autoantibodies in those who have dysglycemia without overt hyperglycemia using an oral glucose tolerance test (OGTT) or an alternative method if appropriate and OGTT is not available.
In patients who meet the criteria for a diagnosis of Stage 2 type 1 diabetes, ensure the clinical history of the patient does not suggest type 2 diabetes.
Prior to initiating TZIELD, obtain a complete blood count and liver enzyme tests. Use of TZIELD is not recommended in patients with certain laboratory abnormalities.
Dilute TZIELD in 0.9% Sodium Chloride Injection, USP. Refer to the full prescribing information for detailed preparation and administration instructions.
Premedicate with a nonsteroidal anti-inflammatory drug (NSAID) or acetaminophen, an antihistamine, and/or an antiemetic before each TZIELD dose for at least the first 5 days of the 14-day treatment course.
Administer TZIELD by intravenous infusion (over a minimum of 30 minutes) once daily for 14 days. Please see the full prescribing information for the dosing schedule.
Warning & Precautions
Documentation & Availability
Sourcing & Delivery
FAQ
If you have any questions or need any help, contact our Patient Support Team. We will get in touch with you within 24 hours from Monday to Friday between 9:00 and 10:00 CET.
All Trademarks and Brands that appear on the website belong to their respective owners and indianpharmanetwork does not lay any claim on them we only provide Information.