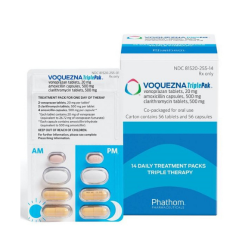 Medicine Name: Voquezna Triple Pak
API: Vonoprazan tablets/Amoxicillin capsules/Clarithromycin tablets
Dosage Form & Strength: 20 mg/500 mg/500 mg
Manufactured By: Phathom Pharmaceuticals, Inc. 
Medical uses
Warning & Precautions
Documentation & Availability
Sourcing & Delivery
FAQ
Medical uses
Voquezna Triple Pak is a co-packaged medicinal product containing vonoprazan, a PCAB or potassium-competitive acid blocker, amoxicillin, a penicillin class antibacterial, and clarithromycin, a macrolide antimicrobial, used for the treatment of adults with Helicobacter pylori (H. pylori) infection.
Recommended Dosage: The recommended dosage regimen of Voquezna Triple Pak is 20 mg vonoprazan plus 1,000 mg amoxicillin plus 500 mg clarithromycin, each given twice daily (morning and evening, 12 hours apart), either with or without meal, for 14 days.
In case a dose is missed, administer it as promptly as possible, within four hours after the missed dose. If more than four hours have passed, skip the missed dose and administer the next dose at the regularly scheduled time. Patients should continue the normal dosing schedule until the treatment is completed.
Warning & Precautions
Documentation & Availability
Sourcing & Delivery
FAQ
If you have any questions or need any help, contact our Patient Support Team. We will get in touch with you within 24 hours from Monday to Friday between 9:00 and 10:00 CET.
All Trademarks and Brands that appear on the website belong to their respective owners and indianpharmanetwork does not lay any claim on them we only provide Information.