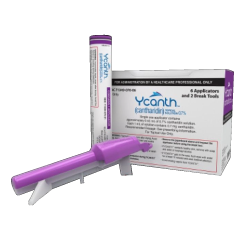 Medicine Name: Ycanth
Generic Name: Cantharidin
Dosage Form & Strength: Topical solution: 0.7% cantharidin
Manufactured By: Verrica Pharmaceuticals
Medical uses
Warning & Precautions
Documentation & Availability
Sourcing & Delivery
FAQ
Medical uses
Ycanth (cantharidin) topical solution, 0.7% is used for the topical treatment of molluscum contagiosum in adult and pediatric patients aged 2 years and older.
Recommended Dosage: Ycanth is a topical solution administered in the office by a healthcare specialist, often a dermatologist. All healthcare specialists should receive proper instruction and training before preparing and administering Ycanth. The medicine Ycanth 0.7% topical solution is for topical use only. It is not for mucosal, ophthalmic, or oral use. Do not contact with the treatment area, including oral contact, after treatment. Do not apply near the eyes.
Regarding Ycanth dosage and administration:
Nitrile/vinyl gloves and eye protection should be used during preparation and administration.
Apply topically as a single application in order to cover each lesion. Use no more than a couple of applicators during a single treatment session.
Remove with the help of soap and water 24 hours after treatment. Administer the medication every three weeks as required.
Avoid covering any treated lesions with bandages.
In case of severe blistering, severe pain, or other severe side effects, remove the medicine with soap and water prior to 24 hours following treatment
Oral ingestion of cantharidin may be responsible for causing renal failure, blistering and severe damage to the gastrointestinal tract, seizures, coagulopathy, and flaccid paralysis.
Warning & Precautions
Documentation & Availability
Sourcing & Delivery
FAQ
If you have any questions or need any help, contact our Patient Support Team. We will get in touch with you within 24 hours from Monday to Friday between 9:00 and 10:00 CET.
All Trademarks and Brands that appear on the website belong to their respective owners and indianpharmanetwork does not lay any claim on them we only provide Information.