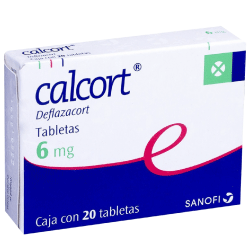 Medicine Name: Calcort 
Generic Name: Deflazacort
Dosage Form & Strength: Tablets: 6 mg, 18 mg, 30 mg, and 36 mg 
Manufactured By: Sanofi
Medical uses
Warning & Precautions
Documentation & Availability
Sourcing & Delivery
FAQ
Medical uses
Calcort is a corticosteroid used as an immunomodulatory and anti-inflammatory agent for the treatment of patients aged 5 years and older with Duchenne muscular dystrophy (DMD).
Recommended Dosage: The recommended oral dosage is approximately 0.9 mg/kg/day taken once daily with or without food. Do not administer it with grapefruit juice. Tablets may be administered whole or crushed and taken promptly after combining with applesauce.
In case pills of Calcort are used, round up to the nearest potential dose. Any combination of the four tablet strengths can be considered to achieve this dose. Dosage must be scaled down gradually if the medicine has been administered for more than a few days.
Warning & Precautions
Documentation & Availability
Sourcing & Delivery
FAQ
If you have any questions or need any help, contact our Patient Support Team. We will get in touch with you within 24 hours from Monday to Friday between 9:00 and 10:00 CET.
All Trademarks and Brands that appear on the website belong to their respective owners and indianpharmanetwork does not lay any claim on them we only provide Information.